well, howdy!
i'm linking up with a few wonderful blogs today.
hopefully, you'll enjoy your visit to my blog & become a follower!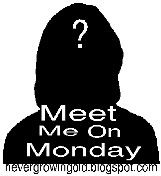 1. what is your favorite kind of fudge?
is it weird that i remember only ever eating fudge while on vacation with my mom? i don't know why this is... but we always find a candy store, buy fudge & other goodies, and go back to our hotel room to indulge! i remember really enjoying mint chocolate. yum!
2. is there snow outside your window?
sadly, no. i only like winter because of the possibility of snow.
i'm ready for spring. :)
3. what is your favorite meal of the day?
i love cooking dinner for me & the hubs.
who am i kidding? i love cooking dinner for anyone who will come over to enjoy the food & company!
4. do you text on your cell phone?
absolutely. i actually prefer sending a text message over making a call.
i hate talking on the phone.
5. waffles or pancakes?
waffles. texas waffles, to be exact!
a couple of years ago, my mama bought me a texas shaped waffle maker. i swear, there's a difference in taste between texas waffles and regular waffles.
...i think we'll have breakfast for dinner tonight!
make sure you guys check them out & link up!